Hungary's only laser with a 5D eye tracking system has arrived
What benefits does Eagle Eye Clinic's new high-tech German laser offer to you?
it is able to perform no-touch (blade-free) laser treatments
this laser features a 5D eye tracking system, which is not only capable of tracking the eye's position in the vertical and horizontal planes, but also the rotation of the eye around its visual axis (cyclotorsion); this plays an important role primarily in treating patients with astigmatism. Learn more about the 5 dimensions of eye tracking
it can help patients get rid of their reading glasses
it has the smallest laser beam diameter and checks 1,050 times every second whether your eye position is ideal or not, which makes it the most precise laser
it has the shortest eye position determination time, so it can assess how laser beams should be controlled in the fastest possible way
due to its intelligent heat distribution function, it distributes laser beams on the cornea so as to warm up the cornea as little as possible and to allow time for it to cool down by the time the laser beams touch the same spot again, thus enabling the gentlest possible treatment
due to its dynamic intensity control function, it is capable of reducing the laser energy at the end of treatment in order to allow the treated area to cool down and enable the creation of an ultra smooth surface
it operates with a 500 Hz frequency, which makes it one of the fastest lasers, as it can emit the highest number of laser beams per second
Laser with 5D eye tracking system only at the Eagle Eye Clinic
Three high-tech lasers in one operating theatre only at the Eagle Eye Clinic
Did you know that, uniquely in Hungary, only the Eagle Eye Clinic's operating theatre is equipped with three different high-tech lasers?
It is very important for us to recommend personalised laser vision correction solutions to our patients. To this end, we always carefully assess which laser device can provide the best visual acuity outcome depending on the patient's specific refractive error. Therefore we constantly renew, develop and maintain our laser equipment.
Do not compromise on your eyes!
Entrust your vision to Hungary's largest laser clinic.
Join the eagle-eyed club!
Apply for a free pre-operative examination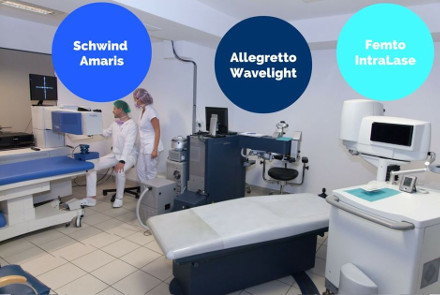 Three high-tech lasers in one operating theatre only at the Eagle Eye Clinic
Apply for a free examination