Number of treatments we have performed:
131.297
Am I a candidate for eye surgery?
Fill out our Candidacy Self Evaluation Test to find out whether you are a candidate for a laser eye surgery.
Eagle Eye Treatment is always preceded by a pre-operative examination
which costs HUF 15.000 for patients under the age of 40 in case of online application, and it costs HUF 25.000 for patients above 40. HUF 15.000 is included in the price of the treament.

What kind of vision problems can be treated with laser?
How can we treat myopia (nearsightedness), hyperopia (farsightedness), astigmatism or presbyopia (the need for reading glasses) with laser?
Who is not a candidate for laser eye surgery?
Laser vision correction treatments are not recommended for everyone. Who is not a candidate for laser eye surgery?
Have a look at the joy of our patients
about sharp vision directly after their surgery!
Our special Eagle Eye Treatment (Sasszemkezelés®) is capable of correcting hidden refractive errors which cannot be eliminated neither with the best glasses, contact lenses, nor with the conventional laser devices. After an Eagle Eye Treatment (Sasszemkezelés®)  (PRK, FEMTO, FEMTO SMART, VisuMax, (presbyopia) treatment for people with reading glasses or NO-Touch), you will have a sharper vision you've ever had before with eyeglasses, for the rest of your life.
Incredible, I haven't felt anything!
Now I see how good it is, I will regret that I have kept postponing it until now.
How safe is laser vision correction?
The outcome of a laser eye surgery will bring radical changes to your life. Anyone who so far has only been able to achieve a moderate visual acuity wearing thick glasses or contact lenses, now will have a keen eyesight without any of these devices. All this may be achieved with a painless procedure.
Why is vision correction 100% safe at the Eagle Eye Clinic?
A pre-operative examination is an excellent opportunity to exclude any factors that may negatively affect your laser treatment's outcome.
The Clinic's staff has already performed hundreds of thousands of pre-operative examinations, thus there is only a very slight chance that such individual responses or issues occur that we have not yet encountered.
Since we are striving for maximum security, our Clinic does not undertake any laser treatments if we are not sure that we can achieve an optimal outcome. Eagle Eye Clinic is the only clinic in Hungary where patients are treated using three high-tech laser systems..
Evaluation and testing are carried out using the world's most advanced ophthalmic devices and instruments and the experience gained by our ophthalmologists during tens of thousands of examinations.
Owing to the wavefront analysis, carried out using an aberrometer (or 'Eagle Eye Meter', as nicknamed by our patients), hidden individual refractive errors can be precisely mapped, which is an excellent basis for planning safer, more accurate and personalised vision correction than in the case of traditional laser treatments.
The scientific partners of the Eagle Eye Clinic include Semmelweis University of Medicine and London Vision Clinic, which is a global leader in laser eye surgery and is managed by Professor Dan Reinstein, inventor of the LBV presbyopia treatment.
The world's most stringent health and safety requirements are in place at the Eagle Eye Clinic.
What kind of guarantee does the Eagle Eye Clinic offer?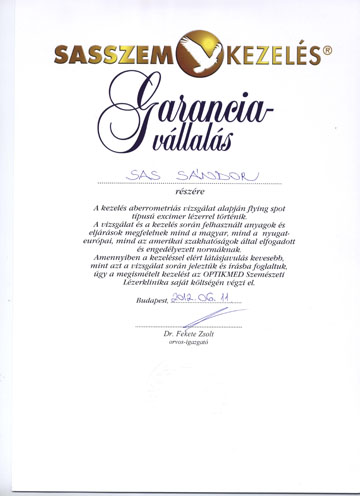 Based on its professional experience of 25 years and more than 125.000 laser eye surgeries, the Eagle Eye Clinic is capable of predicting the expected outcome of a laser eye treatment with a very high degree of accuracy. After the pre-operative examination, you will have the opportunity to experience the anticipated outcome (and you will also receive it in writing), provided that you will react to the laser treatment as 99% of the patients.
But what if you fall into the remaining 1%? What if your cornea reacts abnormally to the treatment? What if the outcome is worse than what you had expected? Our guarantee applies to these cases. You do not even have to assume this 1% risk. If, after the laser treatment, the degree of your vision improvement is lower than what we had anticipated in writing, the guarantee will be applied. Here is a simple example: If your ophthalmologist had promised to improve your vision by 8 dioptres, but the final outcome is an improvement of only 7 dioptres, Eagle Eye Clinic will repeat your laser treatment free of charge.
What do you have to do to become eagle-eyed?
Until 2nd of January you will be entitled to a coupon of HUF 200,000 if you complete our online test! The coupon can be used for HUF 100,000
from the price of Sasszem FEMTO Smart treatment, HUF 35,000 from the price of sunglasses, HUF 20,000 discount from the price of the
pre-operative examination and HUF 45,000 from the price of the control package test. Complete the test now!
Eagle-eyed people who have relied on the experience of the largest laser clinic
The Eagle Eye Clinic provides its experience gained with more than 130.000 successful laser eye surgeries and the available most advanced medical technology to its patients.